Google Review Link Generator
Generate User-friendly Links to "View My Business Reviews" and "Write a Review For My Business" on Google.
View Google My Business Reviews
Get More Reviews
Features
Generate a Link to "Rate and Review" Your Business on Google
Create a "Direct Link" to Open and Display Your GMB Reviews
Get the Geographical Coordinates to Your Business Location
ETTVI's Google Review Link Generator
Get easy-to-share "Google Review Links'' for your customers and enable them to view and write reviews about your business on Google.
ETTVI's Google Review Direct Link Generator makes it easy for everyone, including businessmen, sellers, and marketers, to create a "Review My business on Google'' link. It generates a "View My Reviews'' link and enables your potential prospects to know what other people have said about your business on Google as well.
There's a lot more to what ETTVI's Google Review Link Generator is offering!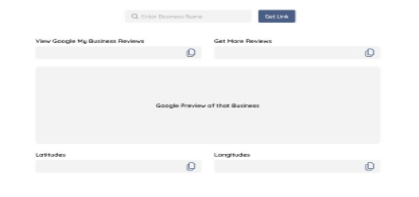 You can avail of ETTVI's advanced GMB Review Link Generator to get the " Longitude and Latitude Coordinates'' of your business. You can share the "Geographic Coordinates'' with your customers to help them locate your business on the map.
Preview the "Google My Business Profile" just when you generate the links to "View" and "Get more" reviews.
How to Use ETTVI's Google Review Generator?
STEP 1: Enter Your Business Name
Use the"search bar"to find your business name and then select it carefully.
STEP 2: Generate Link
Click on "get link"to run the tool.
STEP 3 "Check Results"
ETTVI's Google Review Link Generator will display the following results:
Link to "View Google My Business Reviews"
Link to "Get More Reviews"
Google Preview of the Business
Longitude and Longitude (geographic coordinates of the business)
You can click on to copy the links and coordinates just as required.
Tip: Use ETTVI's URL Shortener and shorten the google review links before sharing with your customers. This will help you deliver an improved user experience.
Why Use ETTVI's Google Review Link Generator?
With ETTVI's Google Review Link Generator, it has become unchallenging to collect online reviews about any business. The advanced features and user-friendly interface of this tool enables the sellers and marketers to make it easy for their customers & clients to review their business on Google - anyone can create the links for google reviews with just one click.
All the user need to do is to enter the business name and ETTVI's Google Review Direct Link Generator will generate well-optimized short links to the "Business Reviews on Google."
You can use this ultimate marketing tool to:
Enable your customers to open the "Reviews" and check other people have affirmed about your business
Facilitate your customers to directly open the "write a review" tab and share their own experience with your business
Preview the "Google My Business Profile"
Get the "Longitude and Latitude Coordinates" to your business
You can do all this with ETTVI's Google Review Short Link Generator for free!
Everything You Need to Know About "Google My Business Reviews"
Read this ultimate guide to know how Google Reviews contribute to business growth and how you can generate Google review links to share with your customers in the easiest way.
What Role Do Google Reviews Play in Local Business?
According to various research findings, people are more likely to believe online Google reviews than personal suggestions. Local SEO relies heavily on getting consumers to submit good reviews for your business on Google. People searching for local services or products frequently see a map indicating the business's location, phone number, and the reviews that others have written for it on Google.
Customer perception and search engine rankings are directly influenced by the number of favourable reviews a company receives from its clients. The more customers and clients write, the more reviews, it will be better for your business.
Google has made it more difficult for customers to submit reviews. You can't give your clients a straight link to your Google review page, but ETTVI has designed a solution that generates your
own unique review URL. Sending your consumers a direct link to your Google Business Review page is the best approach to get more reviews. If you want clients to post reviews for your business, this is the most convenient way to do so, rather than having them look for your Google page on your website. Just a few clicks are all that's needed for a consumer to post a review about their experience with your company.
What is the Procedure for Creating a Google Review Link?
Gaining new customers used to be as easy as talking to friends and family, but these days it only takes a quick Google search to find new customers. A link to your Google Review is critical if you run a business since you understand the value of positive customer reviews in acquiring new clients. A simple Google search and a few customer reviews are the best ways to get the word out about your business. If the gap between three and five ratings is considerable, it could have a major influence.
If you want to win over new customers, you'll need ETTVI's Google Link Review Generator to have a lot of satisfied customers. Creating a Google review link is one of the simplest ways to encourage customers to post a review, and this is the most significant way to generate more valuable reviews.
Google Reviews Helps in Marketing Campaigns
You can increase your marketing efforts by acquiring a positive rating on Google. If you get a positive review, it's a good sign for your business.
Reaching a Larger Audience
Customers who submit a review on Google are more likely to spread the word about your business. Instead of visiting your website's review page, customers are more likely to stumble across customer ratings and reviews on Google My Business (GMB).
The vast majority of potential clients who use the internet have access to your reviews. We may safely say that Google has the broadest exposure of any medium.
Advertising
You might think of it as a form of free marketing. In order to get the word out about your business, you must provide excellent products and services and encourage clients to submit reviews.
Increases the Number Customers
After reading Google reviews, shoppers are more likely to make a purchase. The best place for customers to leave feedback is on your Google My Business listing. An online review can reveal a lot about a business. How attentive the company is to current customers is just as important as product quality.
Marketing efforts must focus on increasing conversions, click-through rates (CTR), profits, and gaining a positive review on Google.
Increase Customer Satisfaction
If you want repeat customers, customer involvement is essential. You're showing that your business cares by responding to reviews. It's likely to bring in new clients and keep them for a long time.
However, with the help of ETTVI's Google Review Short Link Generator, your customers may easily leave a review on Google.
Direct links to Google reviews can be shared with your clients so that they can start leaving positive feedback about your business.
Here's how you can acquire more Google reviews:
Using this link, you may invite your new customers to leave you a review in an email that you send them.
Create a 'Write a review' button on your website.
On your menus, posters, and flyers, include a QR code.
Encourage more reviews by posting favorable evaluations on your social media accounts.
Customers can only post online reviews if signed in with their Google accounts, as seen in the samples above.
Five Best Practices for Requesting Customer Feedback
As a business, it is important to put your clients first. Connecting to Google Reviews helps you get more reviews. Put your client first, and you'll reap considerably more benefits.
Therefore, remember these tips when requesting a Google Review from your customers:
A Google review isn't enough; encourage your consumers to provide specific and honest comments.
Customer reviews help you improve your service, goods, and customer experiences.
Determine the best time to send out the invite.
Customers should be encouraged to post a review if they feel they've gotten something out of your service.
As much as possible, tailor your message to the recipient. Your customer is more likely to post a review of your communication as unique and meaningful.
What Can You Do to Boost Your Google Star Rating?
As far as business star ratings go, Google used a Bayesian average that wasn't wholly dependent on each company's unique evaluations until recently. They now utilize the average of a business's star ratings as a guide. Businesses that have only two reviews and at least one of them is negative may have a difficult time getting their name out there. Despite the fact that you can't delete a bad review from Google, there are ways to improve your total rating.
Respond to the Reviews
If you want to get your point through to potential customers, this is the forum for you. In the event that you believe a complaint is unfair, you should respond politely and calmly but do it in a professional manner. Don't forget that other potential clients are going to read your content.
Flag a Review
If you suspect that a review is fraudulent or abusive, flag it and respond to the reviewer. In the absence of proof that a review is fraudulent, Google does convey to other consumers that the review should be taken with a grain of salt.
Fix the Problem
As long as you identify a problem and correct it, customers are more likely to revise their rating, and they often do. The ETTVI's Google Review link generator makes it simple to leave an online review for any business.
Obtain more Feedback
You may boost your Google ranking by obtaining more 5-star reviews because your overall star rating is average. Email, social media, and even in-person requests for evaluations can be effective.
Reviews
"Since I started using it, I've found that ETTVI's Google review link generator is a wonderful resource for finding the business location and reviews. Use and extraction of the created code is a breeze. This google business review direct link generator tool should be available to all SEO specialists"
Meagen Smith
"As long as you've got this tool, the work won't require you to be an expert coder. Creating all of the necessary meta tags for each web page does a great job using this tool. The only thing we need is simple information, and we're on our way to constructing meta tags in no time. Definitely worth checking out."
MORRIS ROGERS
"Any SEO specialists out there who don't work with content management systems should know that this is the finest google my business review link generator tool to use when generating metadata to optimise your website's content."
REED COOK
"This ettvi Google review direct link generator gets a 9 out of 10 from me as an SEO expert. All of the meta tags it generates are search engine friendly, and it performs well. Consequently, the concept relies on 100% efficiency."
Valiant Morin
"For checking HTTP status codes, this should be your first choice. The ettvi google my business link generator offers a lot in terms of features, convenience, and uptime."
REED COOK
Frequently Ask Questions
No. You must enlist your business on Google Maps in order to leverage Google My Business Reviews. Go to "Google My Business", enter your "Business Name" and provide the required details to verify it. Once the business is verified, people will be able to view and review it on Google.
Enter your " business name" in ETTVI's Google Review Link Generator to generate the direct link to "write a review" as well as the direct link to "read the reviews"
You can add the Direct Google Review Links to the marketing collateral to make it easy for the customers and clients to review your business on Google. ETTVI's Google Review Link Generator serves you the best to generate easy-to-share review links in real-time.
ETTVI's Google Review Link Generator enables you to create direct links to "write" and "view" the business reviews on Google. Just enter a business name and see how ETTVI's advanced tools helps you to:
➔ make sure that people can easily open your "Google Reviews Page" and know how well your customers have rated your business
➔ make it easier for your customers to open the "write a review" page and share their experience with your business without any hurdle
➔ View how your "Google My Business Profile" appears on SERPs
➔ Get the "Geolocation Coordinates" to your business and share with your customers
Yes. With ETTVI's advanced Google Review Link Generator, you can generate direct links to "view" and "write" reviews on your GMB profile for free of cost.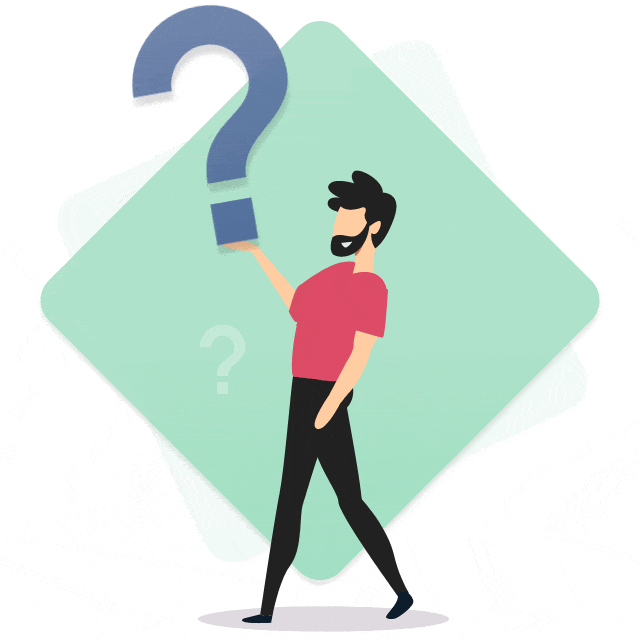 Stay up to date in the email world.
Subscribe for weekly emails with curated articles, guides, and videos to enhance your tactics.